NEOBIČNO OTKRIĆE: 40 obezglavljenih kostura pronađeno na starorimskom groblju – lobanje su im bile smještene između nogu
Izgradnja više milijardi funti vrijedne brze željezničke pruge u Engleskoj dovela je do neobičnog otkrića.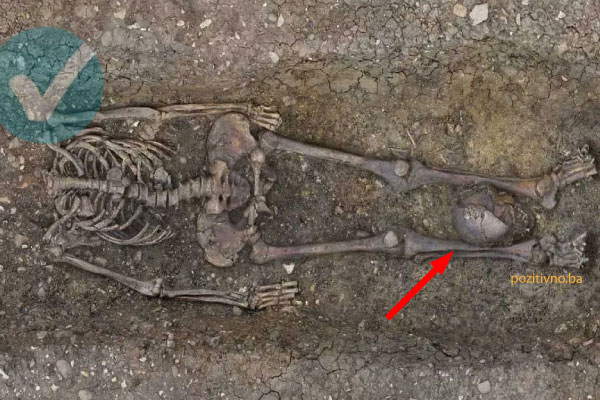 Naime, engleski arheolozi pronašli su groblje iz kasnorimskog perioda i među 425 tijela pronašli su oko 40 kostura bez glave.
Oko 10 posto tijela pronađenih u Buckinghamshireu bilo je obezglavljeno, a mnoga od njih su bila pokopana sa glavama između nogu ili uz stopala.
Arheolozi smatraju da se vjerovatno radilo o zločincima ili izopštenicima, iako je odrubljivanje glave bilo "normalan, mada ne tako čest, pogrebni obred" tokom kasnogrimskog razdoblja.
Plan naučnika je da prouče skelete kako bi saznali više o kontekstu ukopa, ali i načinu života, ishrani i vjerovanjima Rimljana na britanskom ostrvu.
Na lokalitetu je pronađeno i preko 1.200 kovanica, zajedno s nekoliko olovnih tegova koji ukazuju na to da se radilo o području gdje se odvijala trgovina.
Iskopani su i neki kućni predmeti; poput kašika, pribadača i broševa, ali i kocke i zvona za igre koji upućuju na to da su se tu odvijali kockanje i vjerske aktivnosti.
We've just released details of our #HS2 excavation at Fleet Marston, uncovering the largest #Roman cemetery in #Buckinghamshire, with 425 burials. We can now characterise the Roman town and study its former inhabitants. More here: https://t.co/6EUoHnWtzv #Archaeology @oatweet pic.twitter.com/UTN5htLMkT

— Cotswold Archaeology (@CotswoldArch) February 7, 2022
Rimljani su vladali Britanijom od 43. do 410. godine. Fleet Marston je jedno od stotinu arheoloških nalazišta koja su otkopana od 2018. godine tokom gradnje HS2 linije od Londona do Birminghama.
Izvor: kurir.rs/pozitivno.ba