LEGENDARNI DVOJAC: Otkriveno kako su Boris i Bata pijani VISILI na zadnjem spratu hotela
Anegdota stara 50 godina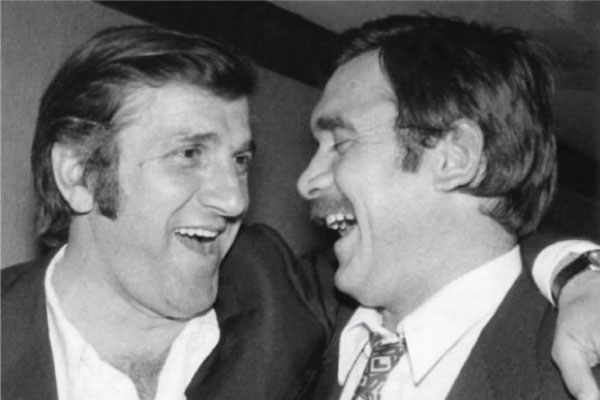 Vladan Živković ispričao je anegdotu Borisa Dvornika i Bate Živojinovića iz 1971. godine.
Filmski susreti u Nišu mjesto su susreta brojnih uspješnih glumaca iz regije, koji uvijek iskoriste priliku i prisjete se dobrih starih vremena i anegdota. Tako je bilo i na 50. Filmskim susretima, gdje je isplivala priča iz 1971. godine.
Vladan Živković, član Savjeta festivala i čovjek koji je u karijeri imao više od 70 snimljenih filmova i drugih glumačkih uloga, ispričao je zanimljivu anegdotu koja uključuje legendarne glumce Borisa Dvornika i Batu Živojinovića.
"To je bila, tada za mene, jedna stravična priča. Mislim da je to bilo 1971. godine. Je li to bio film Most Hajrudina Šibe Krvavca ili tako nešto, ali sve u svemu, stojimo gore na petnaestom spratu hotela Ambasador gdje je bio bar. I stojimo Boris Dvornik, Bata Živojinović, kasnije moj vjenčani kum, neuropsihijatar Zoran i ja. I Bata mi u jednom trenutku kaže: 'Ajde mali, ti si najmlađi, idi nam donesi četiri viskija.' Uđem unutra na šank, daju mi i na onom poslužavniku nosim četiri viskija", ispričao je Živković.
Kad je donio viski do mjesta gdje je ostavio svoja tri prijatelja, tamo nailazi samo na kuma Zorana, koji je djelovao pomalo uplašeno i samo šuti.
"On, onako začuđen, samo šuti. Čujem ja glasove, a on stoji sam. Pitam gdje su ova dvojica, on šuti. ali, ja onda krenem prema glasovima koji su tu negdje, a nigdje nema ljudi. naravno, pijana posla. Zateknem nezaboravnu sliku. Njih dvojica su se svojim remenjem zakačili i vise prema dole s Hotela Ambasador. Razgovaraju i viču: 'Gdje je viski, gdje je viski?' Malo je falilo da ispustim onaj poslužavnik jer sam se prestravio. Strašno. Mislite da su se uplašili kad su me čuli i da nisu tako popili viski? Poslije kažem: 'Pa Bato, što to radiš, mogli ste poginuti', a on će meni: 'Iha, pa nije to ništa, znaš gdje smo sve mi visjeli i na kakvim koncima dok smo snimali Most', ispričao je Živković.
Te 1971. godine na Filmskim susretima Grand Prix "Ćele Kula" osvojio je Boris Dvornik, Bata Živojinović osvojio je nagradu "Car Konstantin", a Vladan Živković dobio je jednu od prvih počasti u karijeri, nagradu za debitantsku ulogu u filmu Doručak s đavlom, koji je režirao Miroslav Antić.
Izvor: net.hr